| | | | |
| --- | --- | --- | --- |
| News Headlines - July 23, 2012 | | | |
July 23, 2012

News Headlines

1. Myanmar: The War With The Kachins; One Year On – Analysis

2.  Burma's war victims in Kachin State need humanitarian aid

3. A New Era Of Openness In Myanmar (Burma)

4. Burma Eyes Overtaking Cambodia, Laos Economically

5. Ansar Burney to visit Burma

6. Burma Road chip sealing to begin Tuesday 

7. How companies can rewrite Burma's story and avoid a repeat of history

8. Thailand, Myanmar back ambitious port project

9. Sweeping cooperation deal with Myanmar

10. Underaged Myanmar maids working in S'pore

11. Indonesia, VN, Myanmar offers SME opportunities

========================

Myanmar: The War With The Kachins; One Year On – Analysis

By: SAAG
July 23, 2012

By C. S. Kuppuswamy

The situation in Kachin area appears to be serious and its adverse impact on the ongoing reform process cannot but be overemphasised. There are two views on the ongoing war from two different sources:

"Talks between the Myanmar government and ethnic resistance groups have raised hopes of a lasting solution to decades of ethnic strife, but the country's established history of failed ceasefires threatens to repeat itself with potentially disastrous consequences for new foreign-funded peace and reconciliation initiatives. Nowhere is that more apparent than in the northern Kachin State." – Bertil Lintner (AT on line 02 June 2012)

"Hundreds of people have lost their lives, thousands have been maimed or injured, and some 70,000 have been displaced from their homes. But after 1,640 battles, the conflict between Kachin rebels and the Burmese army—now into its 13th month—shows no sign of abating." – Saw Yan Naing (The Irrawaddy, 18 July 2012).
Introduction

The war between the Myanmar Army and Kachin Independence Army (KIA) started on 09 June 2011 in Momauk Township. Momauk Township lies under the control of KIA Brigade 3 (see Maps below) where tension between the military and KIA has been rising for months prior to June 2011.


Kachin State (Source-EBO Analysis Paper No.2/2010).

Momauk Township is on the Bhamo-Myitkyina Road close to No. 1 and No.2 hydro power dams which are located near the Chinese border areas. The apparent reason for the army attack was to control the areas surrounding the hydropower dams, which have been long under the control of KIA. The planned twin oil and gas pipelines under construction by the Chinese also pass close to these areas. Because of this reason some analysts had alleged that the Chinese might have influenced the Myanmar army for this renewed fighting.

In the last 13 months fighting has spread as well as intensified to other areas under control of the KIA, with the threat of the KIA HQ at Laiza being overrun.

The other intriguing factor is that despite orders from the government to the army to stop fighting except in self defence, the war is continuing. All the while ceasefire talks between the government and the KIA have been taking place which are now deadlocked as the KIA refused to attend the last round at Bhamo in early July 2012.
Historical Background

The Kachins are one of the signatories to the Panglong Agreement in Feb 1947 which gave hope to a fully autonomous Kachin State.

The Kachins are mostly Christian. When Buddhism was declared as state religion in February 1961 under U NU's regime, the Kachins were upset and formed the Kachin Independence Army (KIA) to fight for an independent Kachin State. The political wing of the KIA is called the Kachin Independence Organisation (KIO).


Source-Free Burma Rangers' Report

The Kachin Independence Army is the second largest armed ethnic group in Myanmar. The KIA claims to have 10,000 troops with another 10,000 reservists. The troops are divided into five brigades with HQ at Laiza.

The Kachins gave up their demand for independence and sought for state autonomy with self determination. Even this demand did not materialise and the KIO entered into a ceasefire with the military regime then called SLORC in February 1994 seeking nothing more than development of this region.

From 1994 Kachin has seen much development though at the cost of a heavy social and environmental price and with much discontentment to the civilian public. A number of hydropower dams including the recently suspended Myitsone dam are in Kachin State.

With the hope of a political settlement the KIO also attended the National Convention, which took more than 14 years to draft the 2008 Constitution. The KIO's proposal to the National Convention for setting up a Union of Myanmar on the basis of the Panglong agreement was turned down under the threat of breaking the ceasefire agreement.

The Kachin people were (and are still) disappointed with the KIO/KIA for their failure to achieve a political settlement. Besides there were internal dissensions between the KIO and KIA during the period 1994 to 2004 which have weakened both these organisations to the advantage of the military junta.

In September 2010 the KIO refused to become a Border Guard Force under the Myanmar Army and instead made a counter proposal to transform as Kachin Regional Guard Force which was, as expected, rejected by the government.
The Myanmar Army

An extensive report on the army activities in the Kachin State has been compiled by The Free Burma Rangers, a Group that conducts humanitarian work within ethnic areas in Burma. The details of this report were published in Mizzima News (05 June 2012). The following are some of the major details extracted from this report:

The Army is pressing attacks with over 100 battalions (approx 8000 troops)

The Army is using 60mm, 81 mm and 120 mm mortars as well as 105mm Howitzers.

The Army is adopting a three pronged strategy to (1) Control supply lines (2) Cut off access between 5th Brigade (including KIO HQ at Laiza) and 3rd Brigade and (3) cut off access between Laiza area and Laisen Area to the north.

The Army is facing difficulty in resupplying their camps and pushing troops and materials forward because of frequent ambushes by the KIA on the army columns and resupply routes. As a result the army offensives have been much slowed down.

The Army has taken control of most dam sites, areas where the Chinese dual gas and oil pipelines are being currently laid as well as areas where mining operations are taking place.

Consequent to the army action over the last year (since June 2011) over 50,000 Kachin people have been displaced, over 60 Kachin civilians killed and around 100 Kachin soldiers killed. The casualties suffered by the army are not known though some reports indicate that the army also has suffered heavy casualties.

The KIO and the Peace Talks

With a view to end the hostilities between the KIA and the Myanmar Army, the KIO had met with government delegations in June and August 2011. Full scale delegation level talks were held in the Chinese border town of Ruili on 29 November 2011. The KIO's demand for political dialogue and withdrawal of the army from locations close to the areas under control of the KIA as a precondition to further talks were turned down by the government delegation.

The KIO had the next round of talks with the government delegation at Ruili in China on 18 January 2012. China has been quietly hosting these talks presumably because of its major economic interests in the Kachin State and the influx of refugees into China.

One more round of talks was held on 19 June 2012 at Maija Yang (located on the China-Myanmar border) between the government team and the KIA where little progress was made.

The next round of talks to be held at Bhamo on 09 July 2012 did not materialise as the KIO refused to take part because of an army offensive launched during the weekend near Laiza, the KIO HQ. The Deputy Commander-in-Chief of the Army, Gen. Soe Win was also scheduled to attend the talks.

The KIO continues to insist for a political dialogue before agreeing to ceasefire even though most of the other ethnic armed groups have signed a ceasefire agreement within the last one year. The KIO, by insisting on a political dialogue prior to ceasefire agreement, faces the threat of isolation from other ethnic groups and may also be viewed as a stumbling block to the ongoing reforms by the international community and lose their sympathy and support.
The Government

On 01 March 2012, in his speech to the parliament on completion of one year in office, he clarified the three stages of the roadmap to achieve lasting peace in the country. They are a) to first sign a ceasefire to end hostilities b) to engage in economic development, eradicate the drugs and to assimilate into the state, military and political framework and c) to work through the parliament to address the government, national races and citizen needs. In the case of Kachins even the first stage has not been crossed because of the ongoing war.

A Union- level Peace Committee was formed in May 2012 in supersession of the earlier two separate teams working in different areas. This union-level team is divided into two parts—a Central and Working Committee—with government ministers, heads of divisions, MPs and the Chief of Army Staff. The 12-member Central Committee is chaired by President Thein Sein while Vice-President Sai Mauk Kham has been appointed the Chairman of the working committee of 52 members (The Irrawaddy-May 8, 2012).

Railway Minister Aung Min has been the main architect behind the second round of ceasefires entered into with the ethnic groups during the last one year or so. He is the leader of the delegation which has had three rounds of talks with the KIO till date.

In June 2012, the centre had also decided to drop Article 17/1 which had outlawed the KIO. This is a positive development as this was one of the demands of the KIO as it had no legal entity till date for entering into discussions on behalf of the Kachin community. This will also help people detained for being supporters of the KIO and the internally displaced persons.
Analysis

The jungles and river valleys of the Kachin state are rich with minerals, jade, timber and gold. Besides a number of hydropower projects are underway in the state which will benefit the Chinese. The major grouse of the Kachins has been that they do not have a fair share of the revenue that the government is getting from extraction of these natural resources. Ironically, while this is the cause for the ongoing conflict, it is also an impediment for an amicable settlement.

KIO/KIA is totally dependent on China for its survival with illegal border trade of various goods and products. China also benefits from the exploitation of natural resources in the Kachin Region. China cannot afford to antagonise Kachins either. The currency used in Laiza is Yuan and the Kachins are using the Chinese mobile networks and telephones. Hence this peculiar relationship has posed problems for China and Naypyidaw in their mutual relations. To secure its commercial interests, it needs stability along the border and to that extent China is interacting both with the Kachins and the Myanmar Government by hosting the peace talks in its soil.

Even while the peace talks are in progress fighting continues between the government troops and the KIA despite instructions as early as in December 2011 from the President to stop fighting. KIO spokesperson La Nan said "They (the troops) have a policy and even get orders regularly from the government to eliminate us". Thus one wonders whether the government is playing a double game by holding peace talks and fighting simultaneously to weaken the KIA and make it to come to terms. Or is the Army playing truant?

Despite the overwhelming strength of the government troops there have been no substantial gains in the ongoing war with the KIA. This shows that either the troops are ill-trained for counter-insurgency operations in such hostile terrain or they are more interested in safeguarding their areas of interest, particularly the hydropower dam sites and the mining areas, and are acting as a deterrent to KIA's influence. Or, are the army leaders happy to line their pockets when full scale fighting benefits them?

According to media reports and reports of human rights groups, the government is also resorting to arresting of ethnic Kachins in the state under the suspicion of being sympathisers to the rebels. This has caused resentment and the civilians are resorting to mass demonstrations for release of those arrested under mere suspicion. If the reports that indicate that legislation is underway to revoke the 2010 decision which declared the KIO/KIA unlawful are correct, such arrests of civilians for supporting KIO/KIA is more of harassing tactics, which may rebound in the long run.

In this near crisis situation in the north, all eyes are on Aung San Suu Kyi. How would she view the situation in the north? With her popularity among Burmans of the plains high, how would she view the Kachins fighting, which some accounts say is reaching war like operations?

Aung San Suu Kyi conveyed in an open letter on 28 July 2011 to President Thein Sein with copies to some ethnic groups (which included the KIO) that she is ready to get involved in efforts to resolve ongoing armed conflicts between the military and ethnic groups. She has also reiterated that national reconciliation can be achieved only by political dialogue and not by military means. However, the ethnic groups appear to consider that National League for Democracy (NLD) being a party of predominantly Burmans will not help their cause and that Aung San Suu Kyi is rather ambivalent over the issue, may be, because of her helplessness at this stage.

With the experience of the 1994 ceasefire not producing a political result in 17 years time and the deep mistrust of the government, the KIO is not keen on signing a ceasefire agreement this time. The KIO is aware of the fact that it runs the risk of isolation from other major ethnic groups who have agreed to ceasefire. Having made no progress even after so many rounds of talks, the government may harden its stand further and go for total military solution which will not help the KIO/KIA.

Perhaps it may be prudent for the KIO to insist on a time frame for a political dialogue (if not a political solution) with all ethnic groups on the lines of the last Panglong agreement and enter into a cease fire agreement and hope for the best. But can this be done without a ceasefire? It is doubtful.

http://www.eurasiareview.com/23072012-myanmar-the-war-with-the-kachins-one-year-on-analysis/

==============================

Burma's war victims in Kachin State need humanitarian aid

Tue, 2012-07-24 00:42 — editor

President Thein Sein has repeatedly said peace and stability ought to be crucial in the making of a developed country. He also said that without national unity, Burma with over 100 ethnic groups cannot have the benefit of peace and stability.

"If the local people realize government's goodwill policies and objectives and join hands together for development of their own region, all measures for progress of border areas and national races will be successful," he said during 1/2011-Meeting held at the President Office in Naypyitaw in April.

On the contrary, the Burma Army has been intensifying its power in Shan, Kachin and Karen States to clear out the ethnic armed forces fighting for self-determination. President Thein Sein's words and his army's actions paint two very different pictures.

On the other hand, Kachin Independence Organization delegation met Vice Chairman Aung Min of newly formed Union-level Peace-making Committee at Mai Jayan on Sino-Burma border holding informal talks on June 1, June 19 and 20. KIO had already met Kachin State-level peace committee led by Col. Than Aung for twice and then met with union level peace committee led by Aung Thaung for 3 times and met unofficially with union level peace committee led by Aung Min for 4 times.

The fighting between government armed forces and KIA troops in Kachin State and northern Shan State has been producing more and more war refugees since last March. The two armies had countless armed-clashes in June and both sides suffered several casualties in the battle..

Government delegation led by Aung Min and KIO delegation had a meeting at Maijayan on June 20. During that meeting, they talked about repatriation of swelling war refugees as well as withdrawal of government troops from KIO controlled territory.

However, on July 20, KIA's 24th Battalion under 5th Brigade encountered Burma Army's troop under 21st MOC between Bum Sawn hill and Daw Hpum. On July 21, a battle took place between KIA soldiers under 5th Brigade and Burma Army's 142nd LIB at Ban Kawng Mu village. On the same day, another fighting took place between KIA's 23rd Battalion and Burmese army's 40th LIB near Laja Yang, Kachinland News said.

As of July 21, armed clash continues between KIA's 24th Battalion and Burmese army's 387th LIR near Bum Sawn hill. A battle took place between KIA's 15th Battalion under 3rd Brigade and Burmese army's 317th LIR near Law Mun located between Kadaw and Namhpak Hka village in the evening of July 21.

On July 22, three Burmese soldiers and one KIA soldier killed in a combat between a KIA's mobile battalion and Burmese army's MOC-3 near Gang Dau.

As the civil war in Kachin State cannot stop so far, inhabitants have been hiding in the jungle or becoming refugees along the Sino-Burma border. People cannot carry on their agricultural and gardening livelihood. It causes the region food shortage and people suffer from malnutrition plus contagious diseases.

Before the conflict between the Kachin Independence Army (KIA) and government armed forces in June 2011, there was sufficient foodstuff from the paddy and vegetable farms in the neighboring areas. The armed conflicts have forced many farmers to run away from their farmlands. It causes the groups of native people at the mercy of domestic and international donors including the UN Agencies.

Humanitarian aid from international communities to victims in Kachin State amounted to US$ 16.7 million until the end of May, according the Eleven Media Group's news.

The aid went for food, vocational training, health care and shelter. Among the aid donors are Australia, Germany, Britain, Denmark, U.S, France, ECHO and CERF, headed by WFP, TBD, DWHH, Trocaire, HPA, Solidarities Int'l, UNHCR and UNICEF. The UN calculated that a total of 21.9 million would be needed to support a population of around 40,000.

Even though, several IDPs as well as refugees suffered starvation since hostilities between KIA and the Burmese military have an effect on the supply routes en route for the refugees and IDPs' camps in the deep jungle. The worst is that government troops confiscate foodstuff transported from well-wishers to IDPs and war-refugees. Due to food scarcities, many residents have no choice but to rely on rice gruel which in long term is the cause of undernourishment and sickness.

Last month's meetings produced no solution. The government wants the KIO to sign a ceasefire before they discuss withdrawal of troops from the front lines. However, the KIO firmly said that it will not talk about the idea of ceasefire until the Burmese armed forces leaves KIO territories. Moreover, the KIO wants the participation of an international independent body like the UN to get involved in any such agreement.

Without a political solution, situation may not be controlled over current fierce fighting between Kachin Independence Army and government armed forces. About 1650 battles have been fought since renewed fighting began on June 9, 2011, according to estimation made by Kachinland News.

It also said that KIO delegates have asked at least in three meetings to withdraw Burmese troops from KIO territory. But Burmese army has increased troop deployment in order to escalate its offensive war. As a result, hostility has intensified in the Kachin frontline zones.

While the government has been talking about reform, its armed forces should not escalate hostilities in the ethnic states. It is also an obligation of the government to provide humanitarian assistance to those war refugees and IDPs in ethnic states.

- Asian Tribune -

http://www.asiantribune.com/news/2012/07/23/burma%E2%80%99s-war-victims-kachin-state-need-humanitarian-aid

===============================
A New Era Of Openness In Myanmar (Burma)
Posted: 07/23/2012 8:00 am
I've waited for nearly three decades for this moment in history. A new era of openness and optimism is dawning in Myanmar (Burma), akin to what Europe experienced at the fall of the Berlin Wall in 1989. My company has run trips to Burma since the 1980s, and I have been visiting regularly since that time, but I have never seen anything like this.
The country is transforming before our eyes, from democratic institutions taking root to foreign travelers being allowed access to areas that were formerly off limits. It's just an astonishing time to be there.
In a spirit of celebration and exploration, my company, Asia Transpacific Journeys, is launching a brand new departure that will go to Burma's furthest reaches. It's called On Burma's Frontiers, and it goes where no tour operator has gone before -- to extremely remote destinations in the west, including visits tribal villages and a luxurious cruise on a remote section of the Irrawaddy River.
Travelers will also join an amazing celebration with roots that pre-date Buddhism. Locals fashion elaborate paper balloons -- some the size of a house -- into the shape of elephants, fish, dragons, ducks, oxen and lanterns. Many are elaborately painted. At night they are lit to wondrous effect with hundreds of votive candles. As the balloons float away, long fuses set off a payload of fireworks carried in the balloon, a spectacular sight. This festival is still quite off the radar. In 2009, we were the only foreigners present.
It seems my three-decade long wait has paid off. But even more gratifying is seeing the joy take hold in country. I have long-time Burmese friends who have waited for this moment all their lives. It's really a golden moment, a time to rejoice -- and explore.
http://www.huffingtonpost.com/marilyn-downing-staff/a-new-era-of-openness-in-myanmar-burma_b_1690064.html
===============================
Burma Eyes Overtaking Cambodia, Laos Economically
By: RFA
July 24, 2012
Burma hopes to overtake neighbors Laos and Cambodia in terms of average income per person within two to three years, as the country embraces political and economic reforms, Burmese Industry Minister Soe Thein said Monday.
"I hope we will have higher average income per person than Laos and Cambodia by 2014-15. It is possible," he said in an interview with RFA's Burmese service.
Soe Thein was answering a question on his expectations for the Burmese economy in the next five years.
Burma: Pagodas and temples in present-day Pagan (Bagan), the capital of the Pagan Kingdom
Burma is languishing with a gross national income per capita of U.S. $379.60, based on U.N. figures in 2009, the lowest among its fellow member states in the Association of Southeast Asian Nations (ASEAN)—Brunei, Cambodia, Indonesia, Laos, Malaysia, the Philippines, Singapore, Thailand, and Vietnam.
Laos has a per capita income of U.S. $1,130 while Cambodia has U.S. $830, based on 2011 figures by the World Bank.
The gross national income per capita is the dollar value of a country's final income in a year, divided by its population. It reflects the average income of a country's citizens.
A nominally civilian government that took over power in Burma in March last year after decades of harsh military rule and financial mismanagement is implementing democratic and economic reforms that have led the international community to ease sanctions on the country.
As part of economic reforms, President Thein Sein's government, with the help of the International Monetary Fund, launched a managed float of its kyat currency in April to help normalize and unify its multiple exchange rates.
Foreign investment law
The country's parliament is also discussing a foreign investment law, which reports say will spell out new tax exemptions, land-use terms, legal structures, and incentives for foreign companies.
"Our existing law [on trade] are already good. But to be able to compete with [neighboring] ASEAN [countries] and to protect the people, to protect our environment, we are drafting the new law," Soe Thein said.
"Actually it was already discussed at the parliament in the first session, and now this is going to be discussed again," he said.
When asked when the much awaited law will be approved, he said, "It doesn't matter, it will be done at some point."
"Even if this is not done yet, the existing foreign direct investment law is not bad at all. We can apply it for now. When the new law is approved, we can enjoy better benefits."
Soe Thein said Burmese authorities will treat foreign companies on an equal basis based on market forces even though Burma has been close to China for decades especially under military rule.
"This is a market economy. Local partners will choose. If we consider efficiency, let's say if you buy something, you choose a good product. In business, you have to choose the best partner," he said.
Asked whether foreign investments are flowing into Burma rapidly in line with reforms, he said there could be a significant rise early next year.
"We are going to have it. For now, we are still in the process of discussing. I myself have been discussing many times already. It will be a lot more progress by the beginning of next year, I think. Meanwhile, there is some increase."
Jobs
On potential employment benefits, the minister said some 110,000 jobs had been created over the last year with a potential for one million jobs when the government enters into peace with ethnic armed rebel groups.
"When the peace process is done, we will have more job opportunities in the [ethnic] regions [through the efforts of] international donors. Creating jobs is considered the number one criteria. We choose factories that can provide more jobs. Eventually we will have up to a million [jobs]."
The government has struck ceasefire agreements with several ethnic armed groups but their leaders said that the ceasefire is just the first step of a process that must include political solutions.
Clashes have been reported regularly in Shan state, Karenni state, Karen state and most notably in Kachin state, where rebels have not reached a truce despite several rounds of negotiations.
Reported by Kyaw Kyaw Aung. Translated by Khim May Zaw. Written in English by Parameswaran Ponnudurai.
http://www.eurasiareview.com/24072012-burma-eyes-overtaking-cambodia-laos-economically/
===============================

Ansar Burney to visit Burma
Tuesday, July 24, 2012
ISLAMABAD: The United Nations former expert adviser on human rights and Chairman of Ansar Burney Trust International, Ansar Burney has said that alarming reports of Muslims massacre and communal violence is grinding on in western Myanmar and Muslim Rohingyas are increasingly being hit with targeted attacks that have included killings, rape and physical abuse and such reports are creating confusion in international community and human rights organisation.
In a press release on Monday, Burney said the four members team of Ansar Burney Trust International has already applied for visa to go to Rakhine, Myanmar on a fact-finding mission and to help crying and dying humanity.
Ansar Burney in this regard appreciated the announcement of US ambassador to Myanmar for a donation of $3 million in food aid to northern areas of the country affected by fighting between troops and ethnic militias.
Burney said that the Ambassador Derek Mitchell announced at the US Embassy on Friday that the $3 million food aid donation for displaced people in Shan and Kachin states in northern Myanmar would be delivered through the UN World Food Programme.
The Ansar Burney Trust accused security forces and ethnic Rakhine Buddhists of Muslims massacre and carrying out new attacks against Muslim Rohingyas in Myanmar. "The Myanmar government declared a state of emergency on June 10, deploying army troops to quell the unrest and protect both mosques and monasteries but attacks on Muslims and mosques are continuing under the umbrella of army and government," Ansar Burney added.
He said the Burney Trust believes that ethnic and religious cleansing against innocent Muslims under whatever pretext is unjustifiable and inexcusable under international law, and demanded with the United Nations that UN must take urgent measures to protect the Rohingyas Muslims massacre by calling on Myanmar's government to end its crackdown.
Ansar Burney said that almost 800,000 Rohingya Muslims live in Myanmar. Thousands attempt to flee every year to Bangladesh, Malaysia and elsewhere in the region to escape a life of abuse that rights groups say includes slavery, forced labour, violence against women and restrictions on movement, marriage and reproduction.
http://www.thenews.com.pk/Todays-News-2-122458-Ansar-Burney-to-visit-Burma
===============================

Burma Road chip sealing to begin Tuesday
The middle section of Burma Road, a portion of which is pictured here, will have a chip coating applied beginning tomorrow, according to the Fremont County Road and Bridge Department. (Ernie Over photo)
(Riverton, Wyo.) – The Fremont County Transportation Department said Friday the chip sealing on the new portion of Burma Road north of the city will begin on Tuesday. Construction of the middle part of the roadway, from Zuber Road north to the Paradise Valley Road, was completed late last fall. The road's speed limit was reduced to 45 mph and double yellow lines were painted on the new section, prohibiting any passing.
"When we get the chip sealing done, the speed limit will go back up to 55 mph, and we'll have passing areas," said James Gores and Associates Engineer David Knoepke. "The new pavement is real slick in winter snow or summer rain events, that's why we reduced the speed limit and did the double yellow. It was all about keeping motorists safe."
After the chip coating is completed, the new route will be striped on Friday.
http://county10.com/2012/07/23/burma-road-chip-sealing-to-begin-tuesday/
===============================
How companies can rewrite Burma's story and avoid a repeat of history
Jeremy Prepscius
Guardian Professional, Monday 23 July 2012 09.35 EDT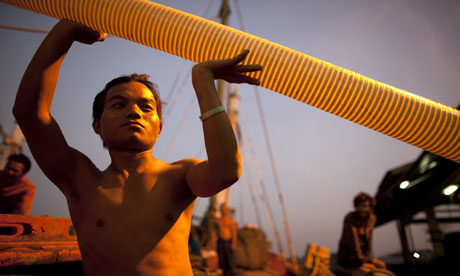 A Burmese fisherman ... the US says it's ready to ease the ban on American companies investing in or offering financial services to Burma. Photograph: Paula Bronstein/Getty Images
As one considers the temporary lifting of EU sanctions against Burma, and the implicit opening up for foreign businesses eager to operate there, it is perhaps inevitable that the largely positive political rhetoric surrounding the country, its seemingly reform-minded government and Aung San Suu Kyi, will soon be forgotten. Stories about resources, wealth distribution, tackling poverty and socio-economic investment may soon drift off the radar, to be replaced by trending news about Burma's GDP, car ownership, exports and rising wealth. If business news is going to dominate, then now is an opportune time to reshape this rhetoric; from consumption and profit patterns to the role of business in contributing to the socio-economic development.
To do this requires a brief historical step back. If today's market entry issues are not understood there is little to stop Burma becoming the new Cambodia or Vietnam – the next low cost manufacturing base in South East Asia, as a rush to the bottom ensues, with little in the way of a diverse labour sector.
The late 1990s, when the apparel manufacturing industry entered Cambodia, was marked by significant labour unrest, challenging wage and working conditions, nascent social dialogue, and international media scrutiny of the country.
The market entry considerations of the 1990s are no longer applicable. Today companies need to marry their business risk with their own pre-existing social, environmental and governance indicators; entering a country like Burma requires serious considerations and commitments to responsible corporate practice.
The question is what manufacturing companies can do to support development beyond low cost manufacturing – and what does Burma need to do to attract it?
Business conduct will no doubt be an important factor in the country's development trajectory. Business has to start as it means to continue. Companies need to establish and make public responsible investment criteria that guides whether and how an investment is made. A crucial starting point is the government as a partner or enabler, starting with the passage of the foreign investment law, which is likely to come by the end of July or early August.
It's important to recognise that though the government doesn't want Burma to become a low cost manufacturing hub they have a long way to go. A recent Asian Development Bank study shows that even if the country's GDP grows by 8-9% a year, it will take 30 years to catch up to Thailand. Yet government needs to set the right direction and business needs to go in with a medium-long term view.
Burma is likely to start out as a low cost hub, but its overall trajectory could be towards higher value-add, better paying jobs and a diversified labour market. Writing as someone who has spent several decades working in low-cost manufacturing hubs in South East Asia, I look at Burma through this lens; ample resources and very little in the way of application of the rule of law. Raising the profile of market entry issues acts like a filter; it raises key considerations for companies to think about whether or not they are indeed committed to responsible entry now or in the future. If they are, they will play a role in reshaping Burma's story.
http://www.guardian.co.uk/sustainable-business/companies-can-rewrite-burmas-story?newsfeed=true
===============================

Thailand, Myanmar back ambitious port project
Posted: 23 July 2012 1705 hrs
Myanmar's President Thein Sein (L) meets Thai PM Yingluck Shinawatra at Government House in Bangkok, Thailand. (AFP PHOTO/POOL/RUNGROJ YONGRIT)
BANGKOK: Thailand and Myanmar pledged on Monday to press ahead with a multi-billion-dollar deep sea port project and to open new border crossings during summit talks focused on strengthening economic ties.
The Dawei development on Myanmar's southern Andaman coast is a key part of the impoverished country's plans to transform its economy, giving neighbours such as Thailand an outlet to the Indian Ocean and markets to the West.
But the project - led by Thai industrial giant Ital-Thai - has faced resistance from local villagers and there have been signs of funding troubles.
The two countries signed a memorandum of understanding on the development of a special economic zone for Dawei, with Thailand agreeing to provide assistance in areas including security, infrastructure and logistics.
Thai Prime Minister Yingluck Shinawatra told reporters after talks with visiting President Thein Sein on a twice-postponed trip to Bangkok that the two nations would set up ministerial-level contacts to address related issues.
"In our talks, I reaffirmed the commitment of the Thai government to push forward with this cooperation with Myanmar in regard to the development of the Dawei deep sea port to have concrete progress," Yingluck said.
The Dawei project would include a 250-square-kilometre industrial area with a steel mill, petrochemical plant and oil refinery. The Thai developer insists all is going to plan.
It is among a number of ambitious foreign-funded projects which started before the long-ruling junta handed over power last year to a new quasi-civilian government whose ranks are filled with former generals.
But doubts about the port development grew after Myanmar's government earlier this year blocked a 4,000-megawatt coal-fired plant that was to be built at Dawei.
On Sunday Thein Sein inspected the Laem Chabang deep-sea port on Thailand's Gulf Coast, which is to be connected by road to Dawei, shortening the current sea route around the Malay Peninsula.
The two leaders also agreed to open three new border crossings between the two countries - in Chiang Mai, Mae Hong Son and Kanchanaburi - in addition to three existing official checkpoints.
Thein Sein described the talks as "friendly" and said he had thanked Thailand for its support and "reiterated our determination to continue our reforms".
Thailand and other Asian nations forged close economic ties with Myanmar during years of Western sanctions against the former pariah that are now beginning to be rolled back in response to dramatic political reforms.
Thein Sein delayed a visit to Thailand in May that clashed with opposition leader Aung San Suu Kyi's appearance at the World Economic Forum on East Asia in Bangkok, in her first overseas excursion in more than two decades.
The Myanmar leader again postponed the trip in early June.
- AFP/fa/de
http://www.channelnewsasia.com/stories/afp_asiapacific/view/1215176/1/.html
===============================

Sweeping cooperation deal with Myanmar
SUPALAK GANJANAKHUNDEE
THE NATION July 24, 2012 1:00 am
Thailand and Myanmar yesterday agreed to set up a ministerial-level working group to implement comprehensive economic cooperation, particularly on achieving concrete progress in the Thai-invested Dawei seaport and economic zone.
The working group - details on the structure and components of which are not yet known - will hold its first meeting next month, Prime Minister Yingluck Shinawatra said.
It will look into issues related to the development of the Dawei project, including the securing of additional land needed for the development, taking into account the interests of communities living in and around the project areas, she said.
Italian-Thai Development is committed to investing at least Bt300 billion in the first phase of the project, which would provide Thailand with a short cut to the Indian Ocean and Myanmar with a gateway to mainland Southeast Asia and the Pacific.
The project has come to the attention of the two governments as the private sector has made slow progress on the development because of financial constraints and a lack of strong political commitment from previous governments.
Thailand has highlighted economic cooperation during Myanmar President Thein Sein's current three-day official visit in a bid to support ongoing reforms in the country as well as for the benefit of regional connectivity.
Thein Sein expressed his appreciation to Thailand for supporting his efforts on political and economic reform as part of Myanmar's transition to democracy, and reiterated his determination to continue them.
The discussion with Yingluck focused on cooperation on capacity and institution building in Myanmar, strengthening cooperation on economic reforms to enhance people's livelihoods, and enhancing transport connectivity between the two countries, including the link between Dawei deep-sea port and Thailand's Eastern Seaboard, he said.
Yingluck reaffirmed the Thai government's commitment to push forward cooperation with Myanmar on the development of Dawei deep-sea port.
"In this connection, the two sides agreed there would be connectivity between Dawei deep-sea port and Laem Chabang seaport in Thailand. This is in the joint interests of Thailand and Myanmar and in the interest of the region," Yingluck told a joint press conference after a meeting with Thein Sein yesterday at Government House.
Thein Sein and his delegation visited Laem Chabang deep-sea port and an industrial estate in eastern Chon Buri province on Sunday, the first day of his trip.
The Myanmar president was accompanied by many ministers including those responsible for energy; commerce; economic planning and development; agriculture; and foreign affairs.
After a panel meeting between Yingluck and Thein Sein, concerned ministers signed three documents to forge cooperation on economic matters.
The documents are a memorandum of understanding on the comprehensive development in Dawei special economic zone and related projects in the area, an MoU on development cooperation in Myanmar, and a joint statement on the establishment of an energy forum.
The MoU on development cooperation involves Thai support for human-resource capacity-building in Myanmar; the readiness of Myanmar to take the Asean chairmanship in 2014; economic reform; sustainable development; and infrastructure development, Yingluck said.
She vowed enhanced cooperation to boost economic development in the border areas of the two countries. She also proposed the opening of three permanent border checkpoints in Kanchanaburi's Ban Pu Nam Ron, Mae Hong Son's Ban Huay Ton Noon and Chiang Mai's Kew Pa Wok to connect to Myanmar's Pyathuangsu, Kayah State and Shan State respectively.
Thailand also wants to open a temporary border checkpoint at Kanchanaburi's Ban Tako Bon to facilitate trade between the two countries and improve living conditions for local people, she said.
http://www.nationmultimedia.com/business/Sweeping-cooperation-deal-with-Myanmar-30186843.html
================================
Underaged Myanmar maids working in S'pore
In 2005, the Ministry of Manpower (MOM) set a requirement that all foreign maids in Singapore must be at least 23 years old.
In 2010, MOM issued warnings to 14 employment agents for bringing in underage maids. Four were also issued with demerit points, which put them at risk of losing their licences.
It is unclear how many underage Myanmar maids are in Singapore.
Four Singapore agents who spoke to the paper said they have been recommended some underage women by recruitment middlemen in Myanmar this year.
They said their suspicions were roused after seeing some of the girls' photos. The recruiters were unable to produce any birth or education certificates for these girls.
One agent received a Myanmar maid two weeks ago who claimed to be 23 years old. However after some investigations, she later revealed that she is only 16 years old and was repatriated immediately.
Ms Cherry Aung, a Singapore-based recruiter, told the paper that she always carries out strict checks but noted that local companies are becoming more lax so the middlemen are taking advantage of this and sending underage girls.
She added that Myanmar agents are aware that Singapore agents are trying to meet the demand for maids caused by the wrangling of fees with Indonesian recruiters during the past few months.
The English daily also said that the Myanmar Embassy is monitoring the issue.
There are currently 206,000 maids here with the majority from Philippines and Indonesia, and only an estimated 10,000 are from Myanmar.
Myanmar maids earn about $400 and $420 a month in Singapore, according to the report.
Mr Tin Maung Win said the issue of underage domestic workers stems from Myanmar laws which prohibits women from leaving the country to work as maids and in the entertainment industry.
The secretary at Varadhatus Ratanarama Association which provides counselling to Myanmar workers locally explained that women are able to leave Myanmar as tourists and the officials do not verify their ages.
Myanmar workers in Singapore also revealed that government officials there can be bribed to forge ages on passport documents.
Myo Myo, a Myanmese maid in Singapore, said she was 16 years old when paid $400 to have her passport age forged as a 24-year-old with the help of a recruiter who was a family friend.
Under the Employment Agency Licensing Conditions, the agents are responsible to ensure that maids brought into Singapore meet MOM's entry requirements.
This e-mail address is being protected from spambots. You need JavaScript enabled to view it
http://www.asiaone.com/News/Latest%2BNews/Singapore/Story/A1Story20120723-360840/2.html
================================

Indonesia, VN, Myanmar offers SME opportunities
WICHIT CHAITRONG
THE NATION July 24, 2012 1:00 am
Myanmar, Vietnam and Indonesia are attractive for Thai investors, particularly small and medium-sized enterprises, economists and business leaders said yesterday.
Aat Pisanwanich, dean of economics at the University of the Thai Chamber of Commerce, said Yangon was the most appealing region in Myanmar for Thai investors, especially SMEs engaged in Thai restaurants, spas, hotels and tourism. Mandalay is another big city that could accommodate investment from Thailand.
The jewellery industry should check out opportunities in precious-stone cutting, he told the "TMB Borderless on Stage 2012" seminar.
The food industry may also look at Dawei in the southern part of the country where a deep-sea port will be constructed by Ital-Thai, he said. SMEs in the textile and furniture industries should also think about moving their production base from Thailand to Myanmar to take advantage of lower labour costs.
The threats are inadequate electricity supplies, poor telecommunication service, high logistics costs, the remaining trade sanctions and low consumer income. "However, if Thai firms wait until everything is put in place, they will not be able to compete with other foreign firms that are now moving into the country," he said.
Another interesting country is Indonesia, where the middle class comprises about 50 million people now and is estimated to grow to 150 million over five years out of a population of 250 million currently. So the market there is huge, Aat said.
Aswin Techajareonvikul, president of Berli Jucker (BJC), said Cambodia, Laos, Myanmar and Vietnam (CLMV) were more interesting for Thai SMEs than Indonesia, where there are already large players and Thai firms may find it hard to compete.
BJC now has glass-bottle and canned-food plants and a product-distribution operation in Vietnam. Over the next three years, it will focus on expanding its business in CLMV.
The firm could help Thai SMEs that want to market their products in these countries, where the combined population is more than 170 million.
The CLMV market is growing as they have young populations that want to consume more and adopt new lifestyles, Aswin said.
Thai companies should go into trading in small countries such as Laos and Cambodia instead of manufacturing, he added.
Wichitra Chalermchaichana, an economist at the university, said Thai restaurants could enter Vietnam as Thai cuisine is gaining popularity. A few Thai restaurants have already opened branches there.
However, land prices in prime areas are very high, so SMEs may choose to form joint ventures with local partners. Thai SMEs are expected to take advantage of the AEC, which will come into fruition in 2015, she added.
http://www.nationmultimedia.com/business/Indonesia-VN-Myanmar-offers-SME-opportunities-30186851.html
=================================
--
~~~~~~~~~~~~~~~~~~~

///

~~~~~~~~~~~~~~~~~~~~

Release All Political Prisoners and Stop War in Burma

Lifting Sanctions on Burma's Regime would be a Mistake
Mr. Sa Long
New Delhi,  India
Ph: +91-9899138581
This e-mail address is being protected from spambots. You need JavaScript enabled to view it
www. matupi.net