| | | | |
| --- | --- | --- | --- |
| News & Articles on Burma - 29 January 2013 | | | |
News & Articles on Burma
29 January 2013
----------------------------------------
Korean leaders pledge support for Myanmar reform, democracy
Myanmar abolishes 25-year ban on public gatherings
Intl Community 'Fabricates News,' Burma Military Says
Austrade Office To Open In Myanmar
China denies selling weapons to ethnic army in Shan State
Government aims for national peace before next election
Defense ministry says army wants peace in Kachin
Thailand to turn away Myanmar boat people: official
Myanmar taxi drivers get car discount
Statoil considers Myanmar commitment
Dispute Erupts at Dunkley's Myanmar Times
Singapore's Burmese Glad for Reforms, But Most Stay Put
Exploring Naypyidaw, a Capital Built From Scratch
-------------------------------------------
Korean leaders pledge support for Myanmar reform, democracy
Published : 2013-01-29 20:21   Updated : 2013-01-29 20:21

Korean leaders pledged support for Myanmar's political reform and economic development during their meetings with pro-democracy leader Aung San Suu Kyi on Tuesday.

Suu Kyi arrived in Seoul late Monday for a five-day visit to attend the opening ceremony for the biennial Special Olympics World Winter Games in Pyeongchang, Gangwon Province.

She met with President Lee Myung-bak, President-elect Park Geun-hye and Seoul Mayor Park Won-soon to discuss the two countries cooperation on bilateral and Asian issues.

The president-elect praised political reform of the Southeast Asian country and Suu Kyis life-long efforts for democracy.

"I'd like to express my respect for your longtime devotion and sacrifice for democracy of your country," Park was quoted as saying during the meeting at her office.

President-elect Park Geun-hye meets Myanmar's pro-democracy leader Aung San Suu Kyi in her Seoul office Tuesday. (Park Hae-mook/The Korea Herald)

The 1991 Nobel Peace Prize laureate was quoted as responding that she hopes Myanmar's fledgling reform will spread the democratic changes and will contribute to the peace and prosperity of its citizens and of people around the world.

They agreed to cooperate to make Asia and the world freer and happier, Park's aides said.

Earlier in the day, President Lee hosted Suu Kyi and promised cooperation in development, education and personnel exchanges.

"Economic development and democratization should go hand in hand," Lee was quoted as saying by his spokeswoman Lee Mi-yon. "Korea will try to provide young generations with more opportunities through economic cooperation with Myanmar."

Suu Kyi voiced concerns about Myanmar's jobless youth and their lack of vocational training, requesting Seoul to help more of her countrymen work in Korea, she added.

It was their second meeting. They met in May when Lee visited Naypyidaw. Myanmar President Thein Sein also came to Seoul in October.

At a separate meeting, Seoul Mayor Park Won-soon and Suu Kyi agreed on the importance of education in promoting democracy and citizenship.

Park, a former human rights lawyer and activist, promised to help Myanmar growers of bananas, coffee and other crops through fair trade, while Suu Kyi expressed interest in urban farming, recycling and city planning and maintenance.

During her five-day stay, Suu Kyi will receive an undelivered 2004 human rights award in Gwangju, the stronghold for Korea's 1980 democracy movement where deadly government crackdowns took the lives of hundreds of students and activists.

She plans to deliver speeches at Seoul National University and the opening ceremony for the Global Development Summit on the sidelines of the Special Olympics. She was also scheduled to meet with lawmakers, local government chiefs, civic group members and others, including National Assembly speaker Kang Chang-hee, Democratic United Party In Jae-keun, Incheon Mayor Song Young-gil, Korea Green Foundation president Choi Yul and actor Ahn Jae-wook.

The two female leaders' meeting has gained particular traction for their ostensibly analogous yet starkly distinct life stories and political careers.

Park, 60, is the daughter of the late Park Chung-hee, a dictator who helped rebuild one of the worlds poorest countries from the ground up but was also criticized for his brutal oppression toward the student-led democracy campaigns. She is set to be sworn in as Koreas first female president on Feb. 25.

Suu Kyi, 67, is the daughter of late Gen. Aung San, the former pariah country's national independence hero. She founded the opposition National League for Democracy in 1988 and was released from house arrest in 2010, ushering in a watershed transition from decades of military rule.

Both lost their fathers to gunshots. Park Chung-hee was gunned down by his spy chief in 1979, whereas Gen. Aung San was killed by assassins in 1947.

Surmounting the trauma and political setbacks, they have emerged as their own country's most influential figures, in part helped by their father's legacies.

The series of high-profile meetings represent a thaw in the two countries ties that have undergone a slew of tense periods since their 1975 establishment.

The relationship soured after a 1983 bombing in Yangon by North Korean agents killed 17 Seoul officials accompanying then-President Chun Doo-hwan. Suspicion over Myanmar's clandestine arms trade with Pyongyang has been another perennial thorn.

Since a nominally civilian government began sweeping democratic and economic reforms in 2011, the U.S., Europe and other countries have been reengaging with Myanmar and lifting the bulk of sanctions targeting its iron-fisted military junta.

With much of its territory remaining underdeveloped, the resources-rich country is now expected to offer ample opportunities to foreign manufacturers, builders, miners, utilities and telecom service providers. Korea is seeking to cash in on its experience of rapid industrialization and strength in construction and information technology.

By Shin Hyon-hee ( This e-mail address is being protected from spambots. You need JavaScript enabled to view it )   http://nwww.koreaherald.com/view.php?ud=20130129001028
------------------------------------------
Jan 29, 8:54 PM EST
Myanmar abolishes 25-year ban on public gatherings

YANGON, Myanmar (AP) -- Myanmar's nearly 2-year-old reformist government has abolished a ban on public gatherings of more than five people that was ordered in 1988 on the day a military junta took power after crushing nationwide pro-democracy protests.

The state-run Myanma Ahlin newspaper reported Tuesday that Order No 2/88 was abolished as it was not in line with a section of the constitution that says existing laws should remain valid as long as are not contrary to the constitution, which guarantees basic rights such as freedom of expression.

The order had been applied selectively to crush dissent against the military regimes that held power until the elected government of President Thein Sein took office in 2011. His administration has instituted political liberalization, including lifting strict censorship.

The order had declared "Gathering or marching in processions and delivering speeches on the streets by a group of 5 or more people are banned." The junta used many catch-all or vaguely defined orders and laws as a means of suppressing dissent, and courts generally handed out stiff sentences, jailing thousands of political prisoners. Most have been freed under amnesties promulgated by President Thein Sein.

In December 2011, a "Peaceful Assembly Law" was implemented specifically allowing public protests. However, permission must be obtained in advance, without which organizers are subject to penalties including prison terms. Several people have been arrested under the statute.

Exercise of the new-won freedoms has tested the patience of the authorities. Last year, sensationalistic photos and stories in the media threatened to exacerbate already deep tensions triggered by violent clashes between two separate ethnic communities in western Myanmar.

A defense ministry statement published in state media Tuesday blamed unspecified embassies, organizations and media of releasing news and announcements that could cause misunderstanding of the military and the government in connection with fighting against guerrillas of the Kachin ethnic minority in the north.

The statement carried in the Myanma Ahlin daily said the embassies and media had made one-sided reports of the army's activities that failed to mention destructive acts carried out by the Kachin Independence Army, and its attacks on government convoys carrying food supplies to bases.

It said the army was carrying out its duty to ensure the people's safety and smooth and secure transportation, and "has inevitably launched military operations in self-defense." It added that the military reiterated its commitment to fostering eternal peace and national unity with ethnic minorities including the Kachin.

The statement did not mention any specific organization, but the foreign ministry last week issued a statement rejecting a U.S. embassy statement of concern over government military activities.

The same issue of the newspaper reported that two villagers were injured when their motorcycle hit a land mine planted by the Kachin, and stated that the guerrillas had burned down a jade company building in same area.

The Kachin, like Myanmar's other ethnic minorities, have long sought greater autonomy from the central government. They reached a peace agreement with the previous military regime in 1994 but a cease-fire agreement broke down in June 2011 after the Kachin refused to abandon a strategic base near a hydropower plant that is a joint venture with a Chinese company.

The conflict has forced about 100,000 Kachin from their homes since then, and many are in camps near the Kachin headquarters in Laiza near the Chinese border.
http://hosted.ap.org/dynamic/stories/A/AS_MYANMAR?SECTION=HOME&SITE=AP&TEMPLATE=DEFAULT
------------------------------------------
Intl Community 'Fabricates News,' Burma Military Says
By SAW YAN NAING / THE IRRAWADDY| January 29, 2013 |

KIA soldiers fire from the trenches at Hkaya Bum outpost on Jan. 20, when rebels endured a heavy Burmese assault despite the government's ceasefire announcement the day before. (Photo: Steve Tickner / The Irrawaddy)
In a rare statement, Burma's Ministry of Defense has lashed out at international criticism of its actions in the Kachin conflict and it accused international organizations, embassies and media of "fabricating news" about the government and military.

In a press release on Tuesday the ministry defended Burma's military — which is called the Tatmadaw — against reports that it had carried on its offensive against the Kachin Independence Army (KIA), despite the government announcement of a unilateral ceasefire on Jan. 19.

The army "halted the regional clearance operations in Lajanyan region since 6.00 am 19 January 2013. But it had to react for self-defense on KIA who came and attacked the areas where Tatmadaw columns are active," according to the release.

It is the first time that Defense Ministry has issued a public statement, perhaps signaling that the Burma's powerful military is becoming more media savvy.

The ministry said the Burmese army was following President Thein Sein's order to only act in self-defense in Kachin State. It accused the KIA of committing atrocities, including destroying of lives and property of civilians, abduction, and striking a series of civilian targets, such as roads and bridges.

The ministry then hit back at foreign governments that have claimed that Burma's military is conducting offensive operations, adding that they ignored KIA attacks.

"Some internal and external organizations, embassies and media issued fabricated news as to the armed conflict in Kachin State that caused misunderstanding [among] people over the government and the Tatmadaw," it said.

"The Tatmadaw is desirous of making eternal peace through ceasefire by reducing the armed conflicts in Kachin State," the ministry added.

The US, the EU and the UN have recently stated their concerns about the use of airpower and the failure of the government ceasefire in Kachin State. The US Embassy said on Jan. 17 that "media and NGO reports indicate that the Burmese Army continues a military offensive" despite the ceasefire announcement.

Kachin rebels on Tuesday rejected the Defense Ministry's announcement, saying the military was not committed to ending the conflict.

Instead, it is trying to divide Burma's ethnic groups by having peace deals with ten rebel groups, while trying to crush the Kachin, said James Lum Dau, the Kachin Independence Organization's deputy chief of foreign affairs.

"It is like the government is giving carrots to other ethnic armed groups, while giving the stick to ethnic Kachin," he said by telephone from Thailand.

Lum Dau said Burma's army was not acting in self defense, but conducting a ruthless military offensive against the KIA

"They use artillery, jet fighters, helicopter gunships and chemical weapons to attack the KIA and Kachin civilians, but they say that they didn't use those weapons," he said.

Aung Kyaw Zaw, a Burmese military observer on the China-Burma border, who knows the ethnic armed rebel groups in the region, said the latest announcement simply continued the governments denial of its military actions in Kachin State.

"They admitted the use of airstrikes only after the entire world knew about these acts," he said.

The Kachin conflict began in June 2011 when a long-standing ceasefire broke down and violence escalated in late December when the military began using airstrikes against the rebels.  http://www.irrawaddy.org/archives/25414
----------------------------------------------
January 29, 2013 12:45 PM
Austrade Office To Open In Myanmar

MELBOURNE, Jan 29 (Bernama) -- The Australian Government will open an Austrade office in Myanmar this year to help Australian companies capitalise on business opportunities in the newly-emerging southeast Asian nation.

The Austrade office in Yangon, the country's commercial capital, will eventually be staffed by a trade commissioner and locally-sourced business development managers.

It's the latest step by Canberra to renew ties with Myanmar as the nation moves slowly toward democracy after decades of military rule and international isolation.

Last year, the Australian Government lifted travel and financial sanctions against Myanmar in response to political reforms in the country.

The Austrade office is the result of this new commercial relationship, and will assist Australian companies looking to secure a stake in Myanmar's attractive but challenging markets., the Australian Associated Press says.

Myanmar's economy is forecast to grow around six per cent in 2013 and boasts significant investment opportunities, from natural resources like oil and gas and a growing population.

"This is another step in the Government's commitment to expand Australia's diplomatic and commercial footprint in Asia," trade minister Craig Emerson said in a statement on Tuesday.

"This new office will support Australia's businesses in education and training, financial services, telecommunications, infrastructure, mining and tourism."

AAP said at the annual meeting of Australia and British ministers in Perth this month, both nations recognised the steps taken on democratic reform in Myanmar and pledged to encourage responsible investment in the nation as it opens up to the world.

-- BERNAMNA  http://www.bernama.com/bernama/v6/newsworld.php?id=924603
-----------------------------------------
China denies selling weapons to ethnic army in Shan State
Published on Tuesday, 29 January 2013 12:51

China has dismissed as "ill-founded" and "misguided" allegations it sold or delivered weapons to the about 30,000-strong United Wa State Army in Shan State.

"The Chinese government holds a clear and consistent policy of respecting the sovereignty and territorial integrity of Myanmar," its embassy here said in a statement issued on Sunday.

Reports alleging China had sold or transferred weapons to ethnic armed groups in Myanmar are misguided, it said. The media reports are based on an erroneous report by a western defence think-tank it said, referring to Jane's Intelligence Review, which released a report last month alleging that China's effort to arm the ethnic army was unprecedented both in the quantity of munitions and the type of systems delivered. The report described the alleged arms deal as highly likely to have stemmed from a high-level decision made in Beijing.

Weapons the Wa Army received included ground-to-air missiles and 12 tank destroyers, the report stated.

The embassy stressed that China had always given strong support to a peaceful solution to the conflict within Myanmar through dialogue and negotiation by both sides. China in recent days repeatedly called for an immediate ceasefire and joint efforts to resume peace and stability along the border area, it said.

China has persistently played a constructive role in promoting peace and facilitating dialogue towards the resolution of the conflict. We will continue to do so, the statement added.

The Jane's Intelligence Review report alleges that a transfer of Chinese-made PTL02 Wheeled Tank Destroyers was made in the middle of last year. The reports author, Thailand-based intelligence analyst Anthony Davis, described this as a significant escalation in the equipment supply to the [Wa army] from China.

Rising support for the ethnic army coincides with political developments in Myanmar that worry Beijing, primarily increased openness to diplomatic and military ties with the United States, the report said.    http://www.elevenmyanmar.com/politics/2279-china-denies-selling-weapons-to-ethnic-army-in-shan-state
-------------------------------------------
Government aims for national peace before next election
Published on Tuesday, 29 January 2013 15:19

The government expects to establish peace nationwide during its term so that the next government can focus on development, Presidents Office Minister Aung Min told a gathering of civil society members on Sunday.

Speaking at the Myanmar Peace Centre, he said that if the government was unable to complete the process of establishing peace the next government could continue it. Myanmar will have an election in 2015 and the people will choose the government most suitable for them. If the peace process is not finished in this governments term, the next democratic government will complete the job, said Aung Min, who is also vice-chairman of the governments Peace Making Committee.

"We will do what we can before the election, but if we don't succeed the next government can continue [working for peace]," Aung Min said.

President's Office Minister Soe Thein told the same forum that ensuring peace was a greater achievement than switching from military to civilian rule. Soe Thein also said one goal of this government was to achieve peace so that the next government could focus on development.

Aung Min said the government was trying to build mutual trust in order to bring peace to Kachin State, noting that fighting had ceased for a few days.

The Peace Making Committee could not achieve peace on its own, he said. The army, armed ethnic groups, social organisations and citizens have to join forces to ensure peace, he said.
http://www.elevenmyanmar.com/politics/2284-government-aims-for-national-peace-before-next-election
------------------------------------------
Defense ministry says army wants peace in Kachin
Published on Tuesday, 29 January 2013 16:06

The country's military is willing to cooperate with the Kachin Independence Organisation to ensure peace and national unity, the Ministry of Defence said yesterday, adding that the military had adhered to a ceasefire order from the Presidents Office that took effect at 6am on January 19.

All military actions since then had been made in self-defence, the statement from the ministry said.

It accused internal and external organisations, foreign embassies and media of fabricating news about the conflict in the northern state of Kachin to cause the public to distrust the military and government.

It said these groups were turning a blind eye to atrocities committed by the Kachin Independence Army, including destruction of civilian targets, such as roads and bridges.

The KIA had taken advantage of the ceasefire to attack government army posts and ambush military columns with landmines, which had killed and maimed government troops, the ministry said.

The KIA's continued attacks on civilian targets - including government buildings, communication links and power lines - had cut trade in Kachin State, which contributed to food scarcity, rising commodity prices and medical shortages for local residents, the ministry said.

Government troops halted clearance operations in the Lajayan area of the northern state at 6am on January 19, but they had to act in self-defence to KIA attacks on areas they controlled, the ministry said.

The military is willing to work to peace through ceasefires, but the KIA has to want peace and work in good faith with the government and military as well, the ministry said.

As the army is strictly following the Presidents order to halt fighting except in self-defence, the KIA and KIO must also respect the ceasefire, the ministry said.
http://www.elevenmyanmar.com/politics/2285-defense-ministry-says-army-wants-peace-in-kachin
-----------------------------------------------
Thailand to turn away Myanmar boat people: official
Monday Jan 28, 2013

Thailand will no longer allow fleeing Rohingya Muslims from neighboring Myanmar to land on their shores. More than 1,000 individuals have already been detained by Thailand.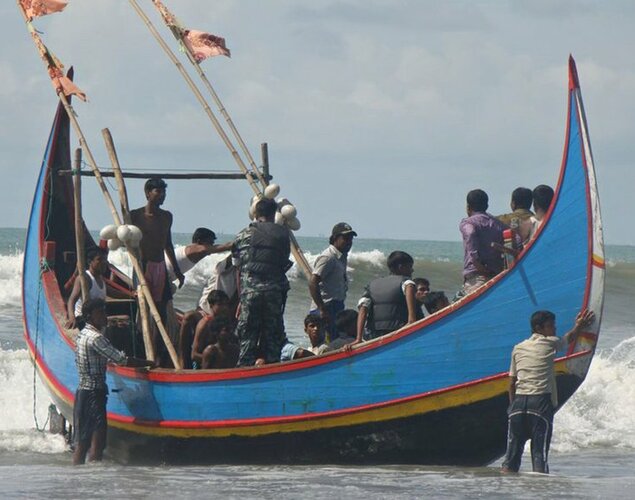 Agence France Presse
Rohingya refugees are pictured on a fishing boat following rescue by Bangladeshi border guards on November 7, 2012
Thailand will turn away any more Rohingya boat people from neighboring Myanmar who try to land on its shores, a top official said Monday after an influx of refugees fleeing sectarian unrest.

"The Thai navy from now on will be stricter with them and will no longer allow them to land," National Security Council secretary-general Paradorn Pattanathabutr told AFP.

"If we find them, we will provide them with food, water and necessities so they can go to their destinations," he added.

An explosion of tensions between Buddhist and Muslim communities in Myanmar's western state of Rakhine since June 2012 has triggered a huge exodus of Muslim Rohingya, mostly heading for Malaysia.

More than 1,000 have been detained by Thailand after landing on its shores.

Paradorn said the existing detainees would be allowed to stay in Thailand for six months at immigration centers or local police stations while the government works with the UN refugee agency to find third countries willing to accept them.

The tougher stance comes a week after Thai authorities said they were investigating allegations that army officials were involved in the trafficking of Rohingya boat people.

Described by the UN as among the most persecuted minority groups in the world, Rohingya have for years trickled abroad to neighboring Bangladesh and, increasingly, to Muslim-majority Malaysia.

Myanmar views its population of roughly 800,000 Rohingya as illegal Bangladeshi immigrants and denies them citizenship.

The UN estimates that about 13,000 boat people fled Myanmar and Bangladesh in 2012, with some dying during the perilous sea voyage. Thailand has been criticized in the past for pushing Rohingya back out to sea.

Copyright (2013) AFP. All rights reserved.

Read more: http://india.nydailynews.com/newsarticle/611b6a098e829735332eec6e412ad81e/thailand-to-turn-away-myanmar-boat-people-official#ixzz2JQNAqsA5
-----------------------------------------------
Bangkok Post
Myanmar taxi drivers get car discount

Published: 29 Jan 2013 at 15.47
Online news: Asia

Myanmar's Ministry of Commerce plans to assist taxi drivers in buying their own cars at discounted prices.


A battered old Toyota Corolla taxi plys the streets of Yangon in this file photo from July 2011. (Photo by Adam Renton)

The ministry has announced that it will sell vehicles to taxi drivers at less than the market price through a hire-purchase scheme.

"Taxis owned by the Ministry of Commerce will be sold at 60% of the market price through a hire-purchase system," a ministry official was quoted by Mizzima.

The official said that the aim is to allow drivers to eventually own their own vehicles.

Most taxis in Myanmar's capital Yangon were relics from the 1960s and 1970s until government liberalisation began in 2011. As economic sanctions have been lifted and buying a new vehicle has become easier in Myanmar, many of these Japanese-made vehicles have been replaced by Chery QQ compacts from China.
http://www.bangkokpost.com/news/asia/333218/
----------------------------------------
Statoil considers Myanmar commitment

Norway energy giant Statoil confirms it is interested in setting up business in Myanmar. Several company envoys have already been to the country.

AV: stavanger aftenblad
Publisert: 29 januar 2013 12:55 Oppdatert: 29 januar 2013 12:55

Statoil has sent delegations to Myanmar to assess possibilities there several times. The most recent visit was earlier this month, writes business daily Dagens Næringsliv.

"After the sanctions against Myanmar were lifted, this country is among the areas we can consider. It is natural for us to follow possible business opportunities, but we don't want to comment on any specific possibilities or considerations, said press spokesperson B岤 Glad Pedersen at Statoil.

One of Myanmar's richest men, Michael Moe Myint, told the paper that Statoil representatives have been in talks with his exploration and production company MRPL E & P, the country's largest private oil company.

Statoil has been here several times and conducted very thorough research into my company, both technically and financially, said Mr Myint.

Statoil would not comment specifically about the business opportunities the group may be considering, and B岤 Glad Pedersen did not therefore wish to confirm whether MRPL E & P might be a relevant partner.
http://www.aftenbladet.no/energi/aenergy/Statoil-considers-Myanmar-commitment-3113064.html
-----------------------------------------------
Dispute Erupts at Dunkley's Myanmar Times
By LAWI WENG / THE IRRAWADDY| January 29, 2013 |

Ross Dunkley, the managing director of the Myanmar Times, addresses a business dispute at the newspaper in Rangoon on Tuesday. (Photo: JPaing / The Irrawaddy)
RANGOON — An internal dispute has erupted at English-language newspaper The Myanmar Times, as the Burmese wife of the company's majority shareholder has filed a lawsuit against Australian managing director Ross Dunkley for allegedly hitting her son-in-law during an argument.

She also accused Dunkley of trying to turn the paper into a daily publication without her permission, adding that she would block the plan. Dunkley said he would press ahead with the move regardless.

Khin Moe Moe, the wife of Dr. Tin Tun Oo, held a press conference on Tuesday during which she alleged that Dunkley had acted aggressively in an argument at the Times office on Monday.

"He punched my son-in-law in the face when we visited the office… He was even aggressive towards me, shouting at me in front of the staff," Khin Moe Moe said.

She said the supposed incident was recorded on video and would be used in a lawsuit against Dunkley, which was filed at Rangoon's Kyauktada Township police office on Tuesday. Her son-in-law was present at the conference but showed no signs of injury to his face.

Khin Moe Moe said the argument was caused by was Dunkley's decision to turn The Myanmar Times into a daily without seeking the consent of her husband Tin Tun Oo, who owns 51 percent of the company.

"Now we block the application for publishing a daily newspaper, as there is no agreement from the director from the company [Tin Tun Oo]. After we reached compromise through negotiations, we will allow the application for a daily newspaper," said Khin Moe Moe, who is also on the newspaper's board of directors.

Currently, the newspaper appears only weekly, but from April the government will allow the publication of dailies.

Khin Moe Moe did not mention whether she would seek to resolve the business dispute through the court, but added that Dunkley "violated our [shareholders] rights. I will write letter to shareholders from the company and we should dismiss him."

Tin Tun Oo is on a trip abroad and was not available for comment.

An hour earlier, Dunkley held his own press conference at the Times' office to address the unfolding row.

He maintained a dispute had occurred after Khin Moe Moe tried to block the launch of a daily newspaper and had interfered in the news operations at the paper, adding that she had no authority to do so.

Dunkley said that ever since Tin Tun Oo took majority shares in the paper in 2005, he and his wife "have sometimes attempted to disrupt the activities of the newspaper.""But their actions will not stop the daily newspaper… launch on April 1," he said. "We have a legal dispute here, and they have acted illegally, extra-legally."

Dunkley said it was "astounding" that Khin Moe Moe filed a lawsuit against him, adding that she had been at fault in the first place by entering into the Times' office without authorization to "abuse our staff and defame me."

"As a managing director I run the day-to-day operations at the company, until that situation changes I will continue to run the affairs," he said. "As a non-executive director and shareholders she has many rights. However, she should address those concerns… at the board of directors meeting."

Dunkley did not address the allegation that he had hit someone.

The Myanmar Times was founded in 2000 when Dunkley entered isolated, military-run Burma to set up an English-language newspaper.
He cut a deal with Burma's hated Military Intelligence (MI) that allowed the paper to appear without passing through the Press Scrutiny and Registration Division, Burma's censorship board. However, the paper's content was screened by the MI. Sonny Swe, a son of senior MI officer Brig-Gen Thein Swe, held majority shares in the enterprise.

Sonny Swe was arrested during a purge of the MI by junta leader Than Shwe in 2004. Tin Tun Oo, a media person with close connection to the junta, took over his shares in the Times.
After 2005, the Times also went through Burma's censorship board. Other local publications remained subject to government censorship until early last year.
The Times employs about 300 staff, most of who are Burmese, and is 49-percent owned by an Australian company affiliated with Dunkley, who also publishes Cambodia's Phnom Penh Post.

Tuesday's public row is not the first time that the Australian businessman has run into trouble in Burma. In June 2011, he spent 44 days in Insein Prison and he was sentenced for physically assaulting a woman and for drug-related charges. Tin Tun Oo took over as editor-in-chief of Burmese-language news at the paper after the arrest of Dunkley, who remains in charge of English-language news.
This story was updated on Jan. 30, 2012.
http://www.irrawaddy.org/archives/25430
---------------------------------------------
Singapore's Burmese Glad for Reforms, But Most Stay Put
By SIMON ROUGHNEEN / THE IRRAWADDY| January 29, 2013 |

SINGAPORE — Singapore's economy grew only 1.2 percent during 2012, while the Burmese economy — after years of stagnation — is predicted to grow more than 6 percent in coming years, if rapid reforms continue.

The dramatic change in their country's economic fortunes has not gone unnoticed among the thousands of Burmese emigrants in Singapore, some of who are beginning to realize that there might be an opportunity to return home after working for years in the wealthy city state.

Stacking piles of batik, an Indonesian-style cloth, at her Myanmar Garden Fashion shop on the top floor of Peninsular Plaza, Khin Pyae Sone says, "Some people have gone back already, I hear."

She has lived in Singapore for the past four years, arriving 18 months after her husband, a network engineer. "He wants to go back to set up his own IT service business," says Khin Pyae Sone.

Burma's political and economic reforms have prompted investors from around the world to mark the long-isolated country out as one of the world's few remaining frontier markets with great investment opportunities.

However, rapid growth in GDP points does not always translate into jobs — particularly in natural resource-based economies such as Burma — and it seems the flow of Burmese looking for work abroad will not end any time soon.

A study by a Burmese parliamentary committee released last week put unemployment in the country at 37 percent.

Although Singapore is home to only about 5 million people, it has a US $255 billion economy, five times bigger than that of Burma — despite the fact that the latter has a population of almost 60 million, is bigger than France, and has a wealth of natural resources such as gas, oil, timber and gemstones.

But decades of repression, economic mismanagement and civil war meant that for millions of Burmese even menial, low-paying jobs in Thailand and Malaysia were long considered more attractive than staying at home.

The need to remit money to families — often indebted subsistence farmers in cut-off rural areas — meant that millions of Burmese were willing to run the gauntlet of exploitative employers and possible trafficking, as they made their way across to Thailand or Malaysia.

In Singapore — where the GDP per capita exceeds that of most Western countries — Burmese with the right skills have often had the prospect of well-paid work, though many Burmese, like other migrants workers in Singapore, do most of the menial, low-paid jobs in construction and domestic work that Singaporeans shun.

But even for Khin Pyae Sone's husband, the high cost of living in Singapore means that it will be "three or four years" before the couple can save enough to return to Burma and set up their own coveted IT business.

For other Burmese in Singapore, staying put is the best option. "I came in …the 1980s, my kids are grown-up now, they are Singaporean," says Lau, 60, a travel shop owner who prefers not give his full name.

"I am a grandfather now. I only go back to Yangon to see my mum and my dad, they are 93 and 94 now," he says.

But he says if he was a bit younger, he would seriously consider returning home in search of work. "Before Myanmar was no good, now maybe," he says. "The range [of possibilities] is wide, you could do tourism, transport, restaurant… there are more foreigners, more business, more traffic in Yangon now."

"I hear some Burmese are going back, or plan to," he adds.

This trend could be further aided by Singapore's economy, which recently has begun showing signs of a slowdown, as its dominant trade sector has been hit by continuing economic woes in the US and Europe.

Last year, the city state's growth slowed significantly to 1.2 percent, far below the growth figures from the previous decade, when its GDP increased 6.3 percent per annum on average.

In tandem with this bad economic news, there has also been growing anti-immigrant sentiment in Singapore, where foreign-born citizens now make up almost 40 percent of its population, while birthrates among the native population are falling.

But for now the number of Burmese coming to Singapore to seek work seems unlikely to drop.

"Nothing much changes, the workers are still coming," says Eva Daw Moe Thi Da, manager of at Golden Dragon Employment Agency, a migrant worker recruitment agency. "Every day we get 10 to 20 applications from Myanmar."

Eva Daw Moe Thi Da left Burma in 1995 and married a Burmese man she met in Singapore. Their children can speak some Burmese, but she doesn't see the family moving home anytime soon.

"It could be ten to twenty years before we see such changes that Burmese people don't have to go outside for work anymore," she sighs.

Nevertheless, she thinks her home country has turned a corner. "This time the government will do the right thing," she says. "They cannot undo it now, the world is watching."

Former Burmese native Sandar Oo says however, that she will stay in Singapore. "I am a Singaporean citizen now, I have been here ten years already," she says, her English a mix of Burmese and Singaporean accents and peppered with fragments of the local dialect, such as sticking 'la' on the end of her sentences.

"Yes there are a lot of changes in Myanmar now, but we just go back to visit and there are not yet enough improvements," she says, while sitting at her desk at Asia Treasure Holidays.

Although she adds that at home she speaks Burmese with her four children, aged between 16 and 9 years. "They speak English at school and learn Chinese as well," she says, "but I want them to know their mother tongue."

Looking around her Myanmar Garden Fashion shop, where traditional Burmese dresses and shawls sell for SG$10-20, Khin Pyae Sone says Burmese Buddhist "New Year (Thingyan) is coming soon, so we sell more clothes these days. People get homesick at this time, they think of the fun at home."

She says, "We hope that conditions in Myanmar will continue to improve."  http://www.irrawaddy.org/archives/25387
----------------------------------------------
Exploring Naypyidaw, a Capital Built From Scratch
By STEVE TICKNER / THE IRRAWADDY| January 29, 2013 |

Naypyidaw's government district features a landscape of modern interpretations of Burmese style monumental architecture, but is almost devoid of human activity. (Photo: Steve Tickner / The Irrawaddy)
NAYPYIDAW—A first time visit to Naypyidaw is a curious experience. After a slow and bumpy four-hour drive north from Rangoon in late November, the road suddenly smoothens and Burma's new capital comes into a view.

On a flat expanse, a sprawling terrain filled with urban infrastructure stretches into the distance.

Naypyidaw, meaning "Royal Capital," is unlike the rest of country: it's a place of well-kept parks, massive six-lane highways lit 24 hours per day, a gleaming new airport, air-conditioned shopping malls, huge palace-like government buildings and off-limits military neighborhoods and complexes.

The entire administrative and governmental structure of the city is spread out over a vast semi-urban landscape, each city function neatly packed into its own precinct. Central squares or other public spaces where large crowds can gather are conspicuously absent in the meticulously planned urban lay-out. The plan includes a full-size replica of the Shwedagon Pagoda.

Construction of Naypyidaw began in 2002 and through the use of forced labor and at enormous cost, Burma's junta created a new capital to house the president's office, military headquarters, government ministries and newly reinstated parliament. It was officially declared the country's capital in November 2005.
The reasons for the military's baffling decision to build a capital city from scratch remains shrouded in mystery. Some say it was done on the advice of the astrologer of Than Shwe, Burma's former military supremo. Others think the generals preferred to locate the capital at a site that was easy to defend from foreign military invasions.
Naypyidaw only opened up to the public in 2010, when the junta began the planned transition to the current quasi-civilian government. The pace of construction has slowed down in recent years, but still major structures are going up, such as the stadium that is being built for the Southeast Asian Games, which Burma will host this year.
All civil servants and the military, along with their families, moved to the capital shortly after completion and the city's population is now said to be growing fast. The government claims that 900,000 people live in Naypyidaw, which would make it the country's third biggest city after Rangoon and Mandalay (which both served as Burma's capital in different periods of history).
Yet the city is strangely empty. A few families saunter through the shopping malls, several dozen laborers toil at construction sites, roads are devoid of traffic, while farmers plow their fields only a stone's throw away from the huge government buildings that constitute Burma's center of power.

Surreal in its emptiness, yet with a neat and grand appearance, Naypyidaw at times feels like an enormous film set or an abandoned Disneyland without attractions.

Although few people are around, government personnel still keep up some of the old regimes habit of secrecy, as they zealously try to prevent visitors from taking photos, even inside the brand-new, quiet shopping malls.  http://www.irrawaddy.org/archives/25364